Welcome To Our Professional Oxygen Bubble
We offer our professional line to spas, beauty salons and medical estheticians for professional treatments. Our retail range is also available for sale at spas and by leading retailers.
our spa story
---
Did you know that Karin Herzog Oxygen Skincare also has a high-performance professional line? In fact, our award-winning brand was born as a spa collection.
After 10 years of rigorous experimentation, Dr. Herzog discovered the secret of miracle skincare. He succeeded where others had failed: in stabilizing active oxygen in a cream to create a potent, detoxifying age-fighting formula that is still only known to the Herzog family to this day.
Dr. Herzog and his wife, Karin - an esthetician, integrated this formula into a clinically proven professional line and opened their first beauty spa on the shores of Lake Geneva 40 years ago.
His discovery has remained an esthetician's "secret weapon" ever since, helping women around the world to reveal youthful, crystal clear skin.
how we support our partners

---
Marketing & PR Support
Promotion material
Sampling and gifts with purchase options
Spa & Retailer Finder on www.karinherzog.com
Monthly Spa Spotlight on www.karinherzog.com
Public Relations support from our Head Ofiice in Miami.
Training and Professional Expertise
Start-up and ongoing training
Access to our spa menu of face and body treatments
Innovations
New products and treatments harnessing latest anti-aging and problematic skin ingredients
High performance facial and body treatments developed to treat all major skin concerns and leave the skin looking fabulous after the first treatment
what our partners think
---
"The Oxygen treatment is wonderful. I am getting great results for acne skin. The Thermal Mask was giving amazing results - that was my clients' favorite product."
Licensed Esthetician, Seventh Wonder Day Spa
Jacksonville, FL
"I love the fact that no matter what your skin issues are, Karin Herzog will effectively combat it to reveal healthy, glowing skin! I can recommend it to anyone with upmost confidence that they will see the results they want. Thank you for creating such amazing products!"
Licensed Esthetician, Marion Kay
Oklahoma City, OK
"It works! No matter the skin condition, from my teenage clients with breakouts to my 91 year old client, Joyce, who has been coming to me for over 20 years. My clients love the results they get and so do I! I've been using Karin Herzog products on my skin for at least 25 years. I really love Karin Herzog products! "
Spa Owner & Licensed Esthetician, Valinda Dawson Skincare
San Diego, CA
"What's not to like about all the Karin Herzog products? All of my clients are so happy and amazed at the results of their facial. My favorite thing is when my clients sit up and look in the mirror at their skin and gush about how great their skin looks. My skin has never looked better! The skin looks plump and hydrated."
Beauty Salon Owner & Licensed Esthetician
Lashes by Cathy, Rosewell, GA
"My favorite thing is the natural glow and hydration you achieve with Karin Herzog."
Spa Owner & Licensed Esthetician, LKcreations
Papillon, NE
"My favorite thing about Karin Herzog is that it works. I have been a licensed esthetician for over 30 years, and when I found Karin Herzog products, I stopped using everything else! I love all the products and so do my customers. I especially love the Essential Mask. Keep new products coming!"
Beauty Salon Owner
Baltimore, MD
"I've been using Karin Herzog in my salon and personally for at least 15 years. I love how it makes any skin look it's best. Dry, acne, or dull - it doesn't matter Karin Herzog is your product for all different concerns. My favorite in the salon is Oxygen Face because nothing works for extractions like oxygen cream. My favorite at home is Vitamin H - the smell is everything!"
Licensed Esthetician, Salon Diva
Laguna Nigel, CA
our spa spotlight
---
| | | |
| --- | --- | --- |
| | Every month in our "5 minutes with…" series we shine a spotlight on one of our valued partners to discover more about them. | |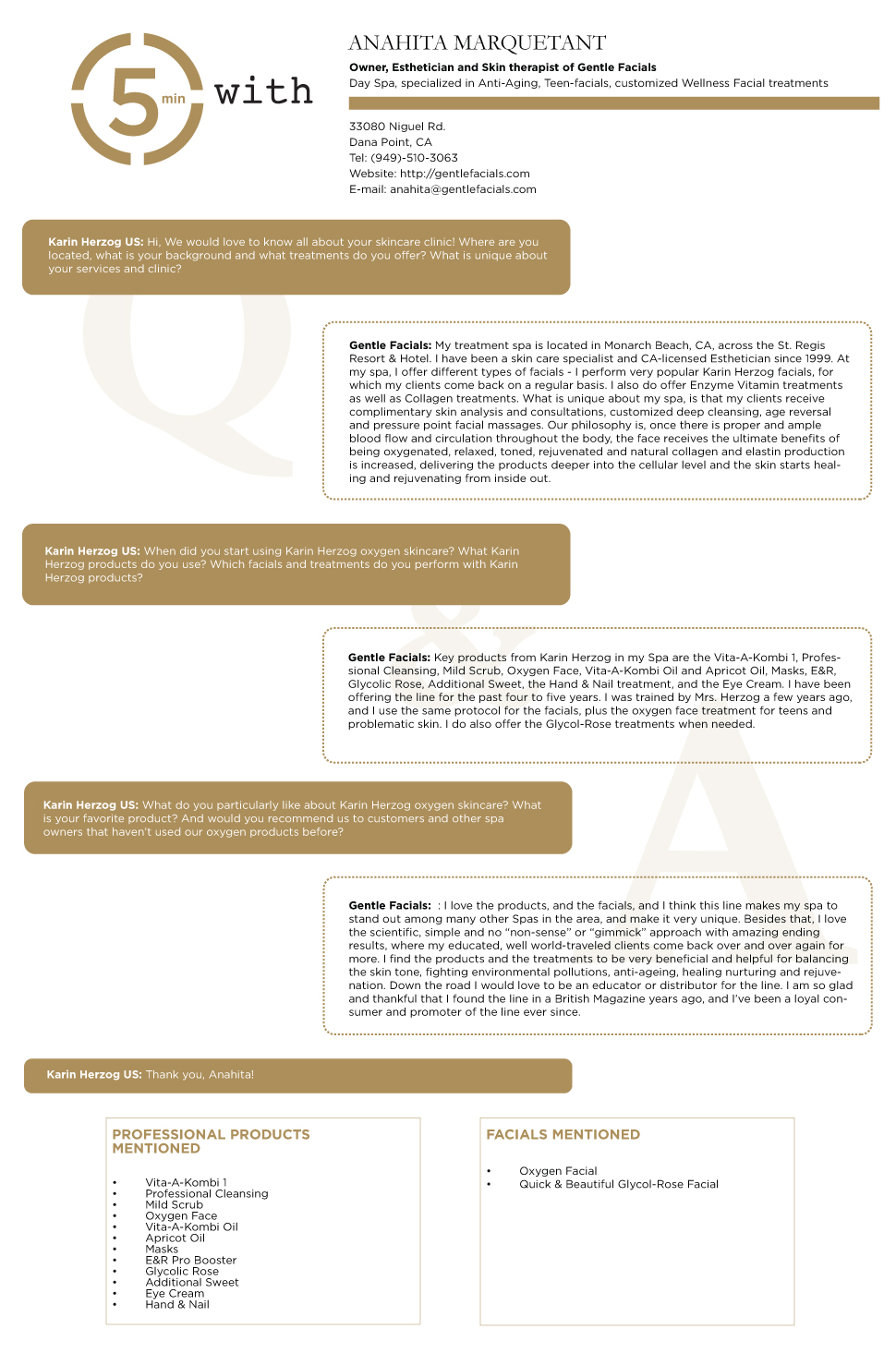 contact one of our oxygen specialists
---
If you are interested in becoming a Karin Herzog partner please e-mail us at [email protected] or call us at (305) 777 2543 to get started today!




We're hiring!

Want to represent Karin Herzog?

We are looking for engaging and energetic sales representatives who can share their passion for skincare and beauty while representing our brand. As a Sales Representative, you will promote our latest products, conduct compelling demonstrations, engage customers and close sales. Please e-mail us at [email protected] if you want to apply for a Sales Representative position.